Chatty Cafe Scheme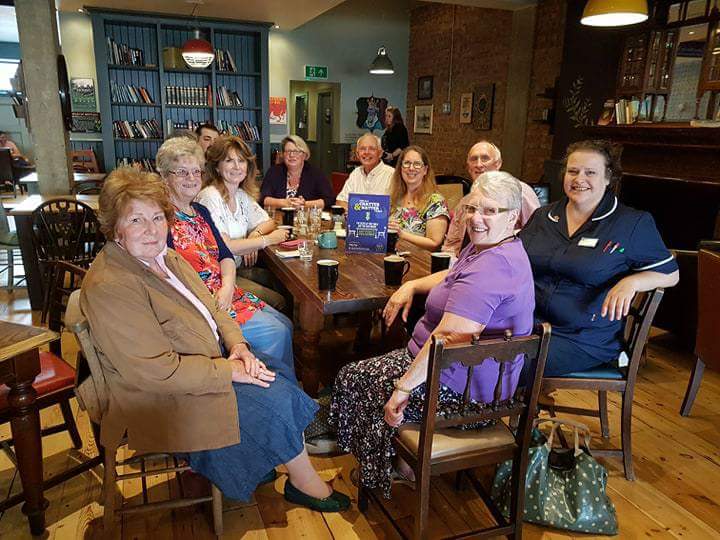 OUR ANDOVER CHATTY CAFE SCHEME
A chance to chat with strangers has come to Andover and surrounding Villages, in a new scheme to tackle loneliness and boost community spirit.
We are delighted to announce that the OUR ANDOVER Chatty Cafe scheme was launched on Monday 4th June 2018 by Andover Town Mayor Barbara Long. Participating cafes have a dedicated "Chatter & Natter table" where customers can come and sit if they are happy to talk to other customers. It is not so much about making friends but more about good old fashioned human interaction, although making new friends may also happen!
The national chatty scheme has been introduced to Andover and surrounding Villages, but instead of cafes individually signing up to the scheme, OUR ANDOVER, is running it as a project. We now have six participating cafes over five days and our aim is to have a chatty table seven days a week. These are the six Cafes in Andover Town Centre that have signed up to host a morning or afternoon, where anyone can come along and sit with other people and have a good old chatter and natter:
Monday am - Coffee#1
Tuesday 12-2pm - Dukes Cafe (Wellington Centre )
Tuesday pm - Costa Coffee (High Street)
Wednesday am - Blue Onion Espresso
Thursday am – Arena Café Bar (The Lights Theatre)
Friday am - Butters Cafe
So if you are feeling bored, lonely, isolated or just want some gold old fashioned human chatter and natter interaction, come along to any of the Chatty Cafes listed above.
WHO CAN JOIN IN? Anyone. It is open to everyone, Mums and babies, Dads and babies, Grandparents and babies, young people, older people and anyone in between! It does not matter if you are on your own, a couple or with a friend. If you are a carer, why not sit there with who you care for.
WHAT DO I DO? It is easy, just look for the table with the "Chatter & Natter" sign and sit there! Stay for five minutes or longer while you have your drink and food. It is not about making new friends, it is about having good old fashioned human interaction!
STRUGGLING TO GET INTO TOWN? Transport can be booked in advance with Andover Neighbourcare (members only) on 01264 339899 and Unity on 0330 4004 116.
WHERE CAN I FIND OTHER CAFES? There is a national website https://www.thechattycafescheme.co.uk, which lists all the participating chatty cafes across the UK. So, if you are visiting other parts of the UK and feel the need for a chatter and natter, have a look to see if there are any participating cafes where you are visiting.
​
Background to OUR ANDOVER Chatty Cafe Scheme
The idea for the OUR ANDOVER Chatty Cafe Scheme was created by Co-Director Jo Coole who would quite often sit in a café, see people sitting on their own and think 'do they want to talk to people'? The people Jo spoke to all said they wanted to sit there to be around people and yes they did want to speak to people. So Jo started doing some research and discovered a national chatty café scheme. The national scheme was started by Alexandra Hoskyn back in 2017, when she herself was suffering from loneliness during the day as a young Mum. Alexandra had the same experiences as Jo and set up the chatty café scheme which now has over 100 participating cafes across the UK. The Jo Cox Foundation, inspired by the late Jo Cox's tireless campaigning against loneliness and social isolation within the UK, helped promote Alex's national chatty café scheme in the national TV news.
During the national TV interview, Rachel Reeves MP, the Co-Chair of the Jo Cox Loneliness Commission stated that there are over nine million people in the UK who are either always or frequently lonely. Loneliness is a national health epidemic and is worse than smoking fifteen cigarettes a day and worse for your health than obesity. The NHS has advised that if someone is socially isolated then they are a third more likely to suffer premature death. This is across all age ranges from youths, young mums and dads, single people, the elderly and the disabled.